There are affiliate links in this blog post
Do you love finding deals and sharing them? If so, you've got to check out Dealspotr, where you can get paid to share deals online! You can get paid in e-gift cards for sharing all your favorite deals on their site.
In the past I've gotten frustrated with sites like this because for many of them you have to complete surveys or spend a lot of time interacting on the site. With Dealspotr, all you have to do is submit your favorite deals and start earning. You earn even more if other users "spot" your deal. It's a great way to earn a little extra money if you already know about deals.
How to get set up on Dealspotr:
Head to Dealspotr and set up a profile. You can easily set it up by logging in through Facebook.
Use my code: EATDRINKANDSAVE to get an extra $5!
You customize your feed to see your favorite deals. You get to choose from a lot of different interests like the ones pictured below.
Then you can start sharing deals. My favorite way to do this is to share deals that were emailed to me from stores that I frequent.
Here is how you get paid for the deals:
For each deal you add, you get points, then for each person who likes your deal, you get even more points! Once you get 10,000 points you can cash it in for a $10 gift card. I've only been with it for a short time and I'm already earning points.
Want to make even more money? Refer a friend and earn! Each time you refer a friend, you get even more points.
Are you a blogger? Join their blogger affiliate program and make money each time someone signs up through your link! I'm using their affiliate link in this post to encourage you to sign up. It's free, so why not  give it a try? You can even get a fun badge like this one below: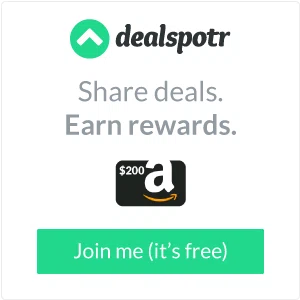 Even if you don't want to add deals to the site yourself, this is a great website to use when searching for deals. Think of it as Google, but just for deals. It's way more accurate than any of the deal/ coupon sites I've ever used. I've completely stopped using any other site!
What are you waiting for? Join here today!