This shop has been compensated by Collective Bias, Inc. and its advertiser. All opinions are mine alone. #NothingLikeAHug #CollectiveBias (ad)
A nursery can quickly fill up with all sorts of baby items leaving little room for bulk diaper storage. Since buying diapers in bulk is the best way to save money, it's important to have a clever diaper storage solution for your nursery. Check out the solution I came up with that has freed up lots of space in our house!
Why Organize Diapers?
If you don't find some sort of diaper organization system, you'll end up like me with diapers in every available free spot.
Now that I have 3 kids ages 4 and under, my house is swimming in diapers. I still have tons left over from before my middle son potty trained. I haven't known what to do with them so most of them are unorganized in the bottom of the nursery closet stuffed into boxes. These won't fit for a while so I needed a better storage solution.
All of this is new to me because with the first two I mostly used cloth diapers during the day with disposables at night. I never had this many disposables on hand so I didn't need a clever diaper storage solution until now. Click on the image below to buy your own diapers from Sam's Club!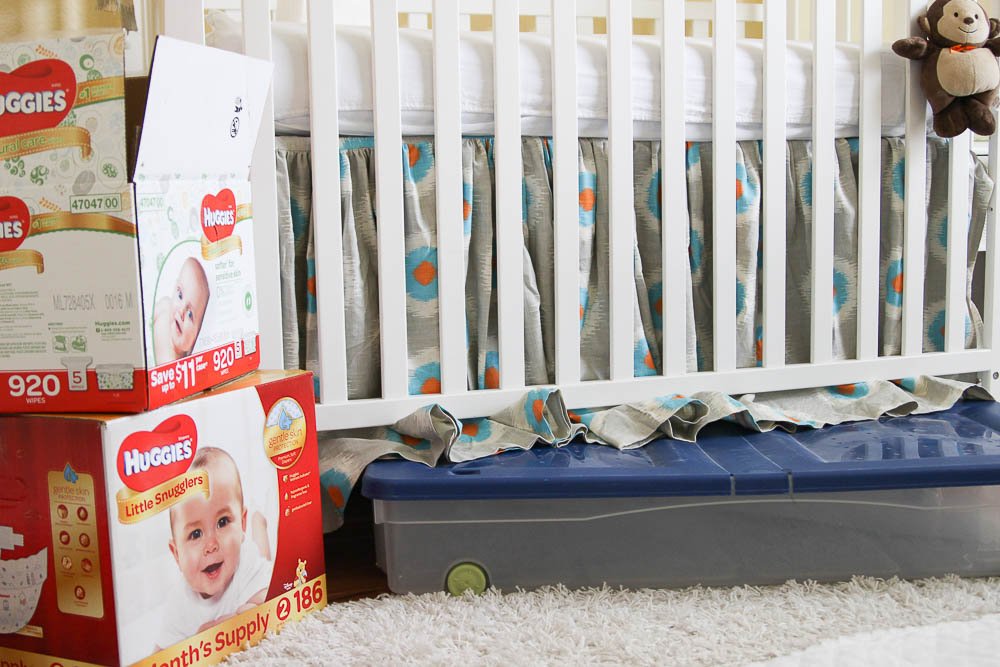 Why Buy in Bulk?
Diapers are so much cheaper when you buy them in bulk. I'm talking crazy price differences! You can get an entire month's supply of diapers at Sam's Club for the price of 2 small packages from a regular grocery store. Believe me, I've been making this mistake! You really do get more bang for your buck at Sam's Club.
Now that I have 3 kids, I'm struggling to keep up with the demands of keeping cloth diapers clean. On the other hand, I'm also struggling with the price of disposable diapers. I've only ever used disposables full time with much larger babies. I bought in bulk with my older two once they were in disposables, but they didn't go through as many diapers as Max has gone through in infancy. It only makes sense price wise to buy in bulk!
Deal Alert
From 10/25-11/22 You can get the following deals:
Instant savings: Buy any 2 Huggies at Sam's Club and get $8 in Instant Savings
Get an additional $4 savings through Ibotta when you buy Huggies at Sam's Club
Clever Diaper Storage Solution to Save Space in the Nursery
To save space in Max's nursery, I decided to store his diapers under the crib. I used an under the bed storage container and filled it with 2 months supply of diapers and wipes.
The container stores easily under his crib and you can't even notice it when the dust ruffle is down. Max had a lot of fun helping me with this little project. You can barely even see the storage container under the bed in this picture. BTW- how crazy is it that my little guy is already in a size 2?! I love that Huggies makes Little Snugglers in his size.  It's the fastest growing brand in hospitals and preferred by moms over Pampers. Little Snugglers help keep Max's perfect skin clean and healthy!
Sweet little guy gave me some smiles during this photo shoot too!
How Many Diapers Will You Need?
Don't be as unprepared as me! Even with my third child, I was completely unprepared for how much diapers would cost. I thought it would be fine to randomly pick up a package while doing regular grocery shopping. Instead, I ended up wasting so much time picking up overpriced diapers when I could have saved time and money by buying in bulk.
If you stock up you can save big time! $395 to be exact! Check out this savings chart from Sam's Club to make sure you're prepared.
As a mom who has tried literally every single different kind of diaper and different brands, I keep coming back to Huggies.  A diaper is on your baby all day long, every day and night, more than any other garment. So nothing is more important than how it feels against your baby's skin. Huggies diapers are designed to give your little one a comfy fit over time no matter what stage your baby is in.
One last baby pictures to make your heart melt.
Like this post? Please pin it! Make sure to follow me on Facebook and Instagram for more snippets of life with me, Max, and my big boys.
Don't forget to get your limited time savings on Huggies at Sam's Club. Click here.