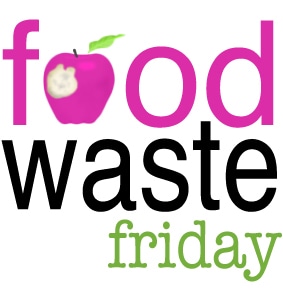 Every Friday I link up with The Frugal Girl for Food Waste Friday. I've been environmentally conscious about food waste since I was in college and this is a great way for me to keep tabs on what we waste in our house.
Here is what I wasted this week and how I avoided waste:
---
1.
Eggplant gone bad
I sautéed some eggplant and tofu for a quick dinner this week.  We tossed it in store bought Yummy Yummy sauce, the kind from hibachi restaurants.  The sauce was sooo good, but the eggplant tasted funny.  Tom and I ate all we could but had to toss the rest.  Not sure what was wrong with it.  Maybe it wasn't ripe enough?  I know it wasn't too ripe.
2.
More pumpkin recipes!
We had half a can of pureed pumpkin left from our last patch of pumpkin muffins.  I made a batch of oatmeal chocolate chip cookies and added the canned pumpkin.  It worked out perfectly!  I'll try to replicate the recipe and post it one day.  As you can tell from the picture, we weren't too exact with our measuring.  Robert loved helping me bake!  We still have flour all over the carpet.
3.
Confessions
I have a confession to make about cheese.  I have some sitting in my fridge that has mold on it and I'm too lazy to take it out and cut the mold off and store it properly.  I know if I do it, I'll have to blog about it.  I admitted this to Irene this weekend and she said she was going to call me out.  I figured I should go ahead and be honest here before she could make true on her promise.  I'm going to take care of the moldy cheese ASAP!  Or maybe tomorrow…
---
How did you do this week? Please share!