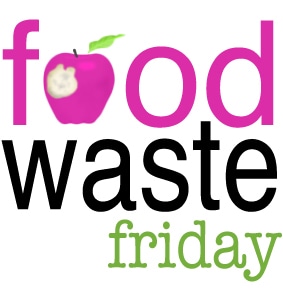 Every Friday I link up with The Frugal Girl for Food Waste Friday. I've been environmentally conscious about food waste since I was in college and this is a great way for me to keep tabs on what we waste in our house.
Before I get into what I wasted this week, I have a couple of important announcements.  First off, happy Food Day!  The link will take you to KathEats.com where Kath has links to a ton of articles about food, some of them about the importance of limiting our food waste.  Here is an excerpt from Kath's blog about Food Day:
Food Day is on a mission to inspire Americans to change their diets for the better and improve our food policies. Created by the nonprofit Center for Science in the Public Interest, Food Day "aims to bring us closer to a food system with "real food" that is produced with care for the environment, animals, and the women and men who grow, harvest, and serve it." Obesity, chronic disease, food insecurity, hunger, food safety, farm labor, and animal welfare are just some of the topics that Food Day addresses.
Second announcement is that we are having another baby!  I'm so relieved to finally share this with my blog readers because this is THE reason that I've wasted so much food lately.  If you've ever experienced morning sickness you'll know that some foods work on some days and on other days they don't.  I'm still battling morning sickness and I'm constantly feeling bad about wasting food or wasting money on my crazy cravings.  I'll blog more about that soon.  In the meantime, here is how we announced it to our Facebook and Instagram friends.
Can you tell that he is Yoda from Star Wars?  Tom and I may be just a tiny bit dorky.  Robert was born on May the 4th so we call him our Star Wars baby.  May the Fourth be with you…  Get it?
Okay.  Enough with the announcements.  Here is how I did this week.
---
1.
10 mini quiches
Tom is still adhering to his no carb/ no dairy diet and I'm doing my best to support him even though I'm craving tons of carbs.  I made these egg breakfast muffin things to help him out in the mornings and they didn't work out.  I think I put too much spinach and not enough sausage.  Plus I tried to be fancy and use organic/ free range sausage from Whole Foods instead of our normal Jimmy Dean sage breakfast sausage.  The healthy sausage isn't good.  Not. At. All.  It smelled funky and since certain smells make me want to vom, I couldn't bring myself to eat these.  Tom couldn't either.  I'll go back to leaving out the spinach and using the good sausage from now on.
2.
rotten tomato
I threw away a rotten Roma tomato from Trader Joe's.  It started rotting the day after I bought it.  I would have taken a picture but the look of it made me want to throw up so I trashed it before I could think too much about it.
That's it!  I think I did pretty well this week considering how awful I've been about wasting food over the last 2-3 months.  I'm still pretty sad about the eggs though.
---
How did you do this week? Please share!
And don't forget to celebrate Food Day!  I think we will celebrate by going to the Stone Crab Festival here in Naples.  Eating stone crab is a fine way to celebrate, right?