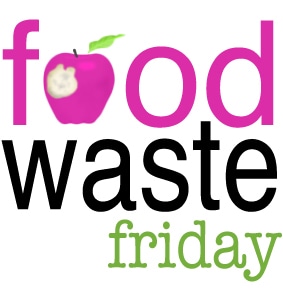 Every Friday I link up with
The Frugal Girl for Food Waste Friday.
I've been
environmentally conscious about food waste
since I was in college and this is a great way for me to keep tabs on what we waste in our house.
Here is what happened with food waste last week. I'm a bit of a planner so I blog about the previous week for these posts.
---
1.
My best friend from high school and her family came to visit and we did a staycation at Tom's dad's "retirement condo".  All the food that I hadn't used for the week got carted over to the condo to eat for the long weekend.
I had some extra veggies and hummus left over from the Stella and Dot party and they made for some delicious snacks over the weekend.
2.
When I looked through my pantry to see what food needed to be used, I found some apple juice that was going to go bad.  Since Robert isn't a big juice fan, I made them into popsicles.  Unfortunately, Robert didn't like the popsicles either, which meant apple juice popsicles for me every afternoon.
The popsicle mold was only $1 at The Dollar Tree.  Totally worth it!
3.
These veggies went bad so I had to toss them.  They started growing some mold and I figured they weren't safe to eat.
4.
I had some cucumbers left over from the Stella and Dot party (thanks Tracie!).  They were starting to loose their firmness so I decided to freeze them and use them to flavor my water throughout the day.  I'll have to remember to do this more often.
Overall, I didn't do too bad!  I only threw out the veggies.
---
How did you do this week with food waste?  Let me know or go to The Frugal Girl to link up.