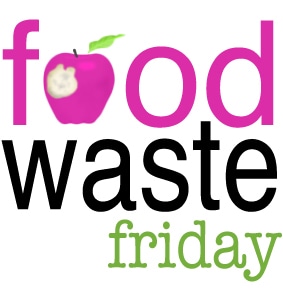 Every Friday I link up with 
The Frugal Girl for Food Waste Friday.
  I've been
environmentally conscious about food waste
since I was in college and this is a great way for me to keep tabs on what we waste in our house.
Here is what happened with food waste last week. I'm a bit of a planner so I blog about the previous week for these posts.
1.
We wasted an entire bag of pre-cut butternut squash.  I was very upset about this one.  I tried everything I could to salvage it until I realized that there was mold growing on it.  I must have bought one that was old because I've never had it go bad so fast.  I'll have to make a mental note to check the date on the bag next time I buy this.
2.
I ate one of these bowls of soup for dinner and I think it made me sick.  We got these with some Chinese take out the previous week.  It wasn't worth making myself sick to eat it so I threw away the other three containers.  I hated wasting that much food.
3.
My lunches consisted of leftovers all week.  I had some leftover mushrooms over spinach as well as a couple fried eggs over fresh cut veggies.  Fried eggs for lunch are my favorite cheap and easy meal.  A little sriracha on top and it's a spicy meal.
4.
The mushroom stalks made it into my veggie bag that I'm saving for vegetable stock.  This bag is filling up pretty fast!
I didn't do as well as last week and that made me sad.  I hope I can do better next week.  Keep checking back on Fridays to see how I do.  And don't forget to follow the blog on social media if you like what you see!
How did you do this week? Leave me a comment or head over to The Frugal Girl and link up!