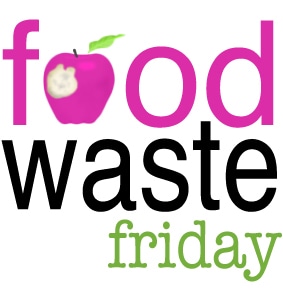 Every Friday I link up with The Frugal Girl for Food Waste Friday. I've been environmentally conscious about food waste since I was in college and this is a great way for me to keep tabs on what we waste in our house.
Here is what happened with food waste this week.
---
1.
Homemade Vegetable Broth
Remember how I made vegetable broth last week?   I had a bad case of mom brain and left it out for two whole days.  There was no saving it.  We don't have much storage room so I keep my Dutch oven on the stove.  I'd set it in it's normal place and forgot it was full of broth.  Whoops!  I had to throw the whole thing out.  It smelled great when it was making broth, but after sitting out for two days it smelled awful.  I can't believe I wasted the whole thing.  Maybe I'll have better luck next time.
2.
Visitor
Tom's dad is in town this week and I didn't buy a lot of food since we will eat out a lot.  In the past I have bought too much food when we have guests in town and I end up wasting it.  I'm glad I remembered his visit this time.  Last time we wasted a bunch of veggies.
---
How did you do this week? Comment or head over to The Frugal Girl to link up.