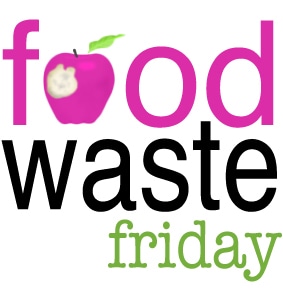 Every Friday I link up with The Frugal Girl for Food Waste Friday. I've been environmentally conscious about food waste since I was in college and this is a great way for me to keep tabs on what we waste in our house.
---
1.
broccoli slaw leftovers
I had to throw out a serving of broccoli slaw that had gone bad.  I prepared it for an easy lunch while cleaning out the fridge and realized after one bite that it had already gone bad.  It was the only thing from my fridge that I wasted this week so I'm considering that to be pretty good.
2.
leftovers made into chicken, rice and veggie noodle soup
Tom and I have both been sick this week so we used the bones of a rotisserie chicken to make a broth for chicken noodle soup.  I didn't use a recipe and it still ended up tasting great!  I'll blog the soup making steps for this soon.  I was able to use some veggies that were about to go bad, as well as some green onion that needed to be used this week.
3.
cilantro pesto
I had a bunch of cilantro left over from one of last weeks recipes and decided to use it in a pesto.  I followed the same directions for regular basil pesto and subbed cilantro.  I was able to use some cheese that was about to go bad.  The pesto was served over shrimp and rice for a quick and easy meal.  Recipe to be posted next week.
4.
blue cheese dip
I had some blue cheese that was about to go bad so I mixed it with Greek yogurt, Worcestershire sauce and lemon juice for a healthier spin on blue cheese dressing to serve with veggies during happy hour.  This turned out great and I think the lemon juice has helped preserve it because I'm still eating this and it hasn't gone bad yet.
5.
Frappuccino
I HATE to admit this, but I threw away an entire tall Frappuccino.  My friend, Yolonda, gave me a 50% off coupon for a Target Starbucks Frappuccino.  I usually think they are too sweet for me, but figured I'd save the coupon for a really hot day where I'd need a cool drink. I got it yesterday and I quickly found out that I still think they are too sweet.  I tried will all my might to drink it during my Target trip and I couldn't do it.  I ended up throwing it away on my way out.  In hindsight I wish I had saved it and put it in the freezer for Tom to drink this morning.  You have no idea how much it pains me to admit that I threw away Starbucks.  I guess I need to stick with my black coffee and espresso drinks.
---
How did you do this week? Comment or head over to The Frugal Girl to link up.