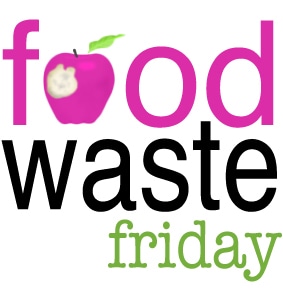 Every Friday I link up with The Frugal Girl for Food Waste Friday. I've been environmentally conscious about food waste since I was in college and this is a great way for me to keep tabs on what we waste in our house.
This was not a good week for me!  I threw away way too much food.
---
1.
Nectarines wasted from Listeria scare
I hated to throw away 4 nectarines due to the Listeria outbreak.   Robert and I had already eaten two of them and didn't get sick, but I figured it was better to be safe than sorry.  Especially with my little man, I'd hate for him to get sick.
2.
Spinach
I didn't throw away much of this because we had already eaten most of it.  I was feeling sick this week and couldn't stomach the idea of eating old spinach.  I'm sure this would have been fine in a smoothie or cooked, but it was well past its salad days.
3.
Shrimp
This was another casualty of me being sick.  This shrimp over rice did not taste good on an upset stomach.  It killed me to throw it away.  I even begged Tom to eat it so I wouldn't have to put it on the blog.  He was too full from his lunch to eat it.
4.
Lentil burgers
I was able to save some lentils from the trash.  I had some leftover taco flavored lentils from taco night and I pulsed them in the food processor with flour to make these patties.  I froze them and now I'm pan frying them for Robert's dinner.  He loves them!  I'll post a real recipe next time I make them.  This one was an experiment and I didn't write down all the measurements.
5.
No Starbucks wasted this week!
---
How did you do this week? Comment or head over to The Frugal Girl to link up.