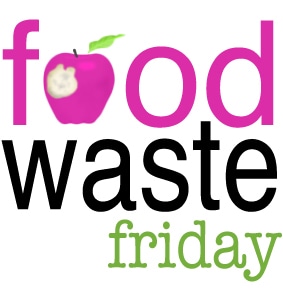 Every Friday I link up with The Frugal Girl for Food Waste Friday. I've been environmentally conscious about food waste since I was in college and this is a great way for me to keep tabs on what we waste in our house.
This was another bad week for me.  I threw away too much produce and that always makes me sad.  I've been buying cheaper produce in larger quantities and I think I need to start buying fresher produce in smaller quantities.  I'd rather not waste the food.  I've found that the larger quantities go bad faster.
This scares me though because I'm planning to join a CSA for the fall.  I need to start figuring our better ways to eat my fresh produce to store them better.  Any ideas?
---
1.
Apple
This little guy was hiding under some produce and I forgot to eat him.  Robert and I split an apple everyday, so we totally could have eaten it if I'd seen it.  I hate when I forget about food like this.  I tried to salvage it, but it was too squishy.
2.
3 sweet potatoes
This one really made me upset.  I pulled out the sweet potatoes to make fries and when I cut into them they had already gone bad.  I don't think I'd had them long enough to allow them to go bad.  I'm sure I could have taken them back to Trader Joe's to get my money back, but sometimes it isn't worth it.  Especially with a baby in tow.
---
How did you do this week? Comment or head over to The Frugal Girl to link up.