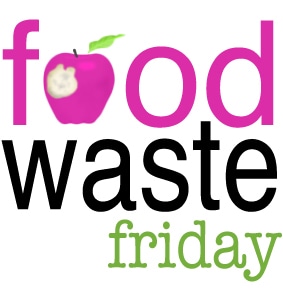 Every Friday I link up with The Frugal Girl for Food Waste Friday. I've been environmentally conscious about food waste since I was in college and this is a great way for me to keep tabs on what we waste in our house.
Say what?  This is my second week in a row of ZERO FOOD WASTE!!!  I am so excited.  I never thought I'd get here.  I'm going to try to keep going.  Here are some of the ways we avoided throwing out food this week.
---
1.
use similar flavors in new dishes
Cilantro seems to be my biggest weakness when it comes to using up herbs.   I hate freezing it, because really, who wants frozen cilantro in a dish?  The appeal of the flavor is that it is delightfully fresh.  Anyway, I bought a huge bunch (because I just can't keep potted cilantro alive for the life of me) and I've been coming up with new ways to use it throughout the week.  We did BBQ chicken pizza with cilantro, BBQ chicken over salad with cilantro, baked tofu and rice with cilantro, stir fry and the rest will be used up to make another batch of cilantro pesto.  I thought we'd get tired of cilantro, turns out it tastes totally different in each dish.  Recipe for the pizza coming after I perfect it.  It's a copy cat of the 4 Train from Sal & Mookie's.  Sooooo good!
2.
breakfast casserole
This is still my go to way to use up extra meat.  We had bacon on the pizza and used the rest of it in a breakfast casserole.  I would die before throwing away bacon.  Oh, and I am a little ashamed to mention this, but I put the bacon grease and cheese from the pizza on my popcorn.  I called it bacon cheeseburger popcorn.  It was pretty delish.
3.
coffee grounds as body scrub
I'm still perfecting this one.  Once I get it the right consistency, I'll share.  I decided to use up my old grounds and mix with brown sugar and coconut oil.  It smells heavenly and helps wake me up in the mornings.  Can't wait to keep playing around with this one.  Guess I'll have to keep drinking my coffee :)
---
How did you do this week? Comment or head over to The Frugal Girl to link up.