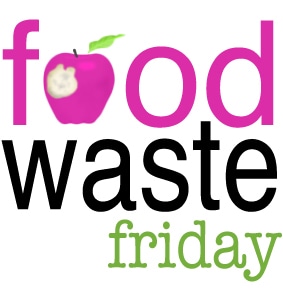 Every Friday I link up with The Frugal Girl for Food Waste Friday. I've been environmentally conscious about food waste since I was in college and this is a great way for me to keep tabs on what we waste in our house.
After two weeks of having zero food waste, I'm sad to say that we wasted some food this week.
---
1.
I threw away pomegranate seeds
I bought this huge bag of antioxidant blend frozen fruit at Target.  I bought it with the intention of making Tom some healthy breakfast smoothies.  The first time I made him one with the new bag of fruit, he commented that the seeds were too big and made the smoothie a strange consistency.  I thought he was being a whiny brat and I didn't think much of it, until I made myself one and had to agree with him.  The pomegranate seeds were WAY too overbearing.  I ended up picking out all the other fruit and tossing the seeds.  It broke my heart to toss them, but I just don't like the crunch.  At least I saved all the other fruit.
2.
Finally used up all my cilantro!
Last week for Food Waste Friday I mentioned that I was going to make more cilantro pesto.  I ended up not having enough cilantro so I combined it with tomato, dill, and red onion for a bruschetta.  I tossed it in balsamic vinegar and served it on top of ciabatta from Trader Joe's.
3.
I refuse to throw away more fruit
We were given a bag of apples and clementines, and for some reason they taste like onion!  They must have been bagged with an onion at one point.  Tom keeps encouraging me to throw them away, but I just can't do it.  Robert refuses to eat the fruit, which means I'm the only one who can handle the taste.  It's pretty gross, but not too bad when I put the fruit on a salad.  I like red onion with fruit on salads.  This way I get the taste of the onion without having to chop one up!
---
How did you do this week? Comment or head over to The Frugal Girl to link up.