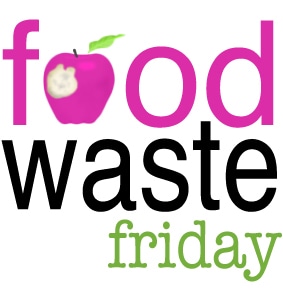 Every Friday I link up with The Frugal Girl for Food Waste Friday. I've been environmentally conscious about food waste since I was in college and this is a great way for me to keep tabs on what we waste in our house.
We almost had zero waste this week again!  We were so close.
---
1.
I threw away 2 oranges and a few rotten strawberries
Remember those clementines I complained about last week?  I had to throw two of them away because they calcified in my fridge.  They were rock solid and there was no saving the poor guys.  I bought a container of strawberries on Monday and 2 or 3 of them were already rotting by the time we opened them for breakfast on Tuesday.  I wish I'd selected them more carefully, I hate throwing away new food!
2.
orange infused honey
I finally used up the rest of the clementines in a honey for tea.  I was this close to tossing them out when I remembered my lemon honey and decided to do the same thing with clementines.  I can't wait to add the honey and a slice of orange to my daily cup of tea.  I'm hoping this will give my immune system a boost for Fall flu season.
3.
repurposed snack bars into snack balls
I attempted to make a "healthy" version of Rice Crispie treats with Cheerios.  I wanted to sub something in for marshmallows and didn't want to use corn syrup so I tried honey and flax instead.  Yeah, don't do that.  It totally did NOT work out.  I ended up added all sorts of stuff to the mix including peanut putter and wheat germ.  Luckily, Robert still loves the taste of these things.  After getting a bit sad about my failure, I decided to repurpose my bars into balls.  Wouldn't you know, they had the perfect consistency for snack balls.  I rolled them in coconut for a little extra flavor.  Don't expect a recipe anytime soon as I doubt I'll ever attempt to make a healthy snack bar again.   I'm thrilled I was able to use them and didn't have to toss the whole batch!
---
How did you do this week? Please share!
Next week from September 1st-7th is Zero Waste Week 2014.  It is out of the UK, but that doesn't mean we can't challenge ourselves in the USA!  Please join the challenge.