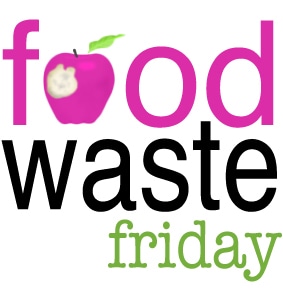 This is my first week blogging about food waste.  In college I became pretty environmentally conscious and participated in several food waste awareness campaigns on campus.  Once a year, our Earth Club would collect all the leftover food from student's plates and display the amount of wasted food during Earth Week.  It was really eye opening to see just how much we wasted.  Since I was paying for my own college education, it annoyed me that the room and board part of my tuition was being wasted on so much food that wasn't even eaten.
During the summers, I worked at Camp Beckwith and also did the food waste awareness exercise.  After each meal I would collect all the uneaten food from campers plates and weigh it.  Then I would challenge the campers to make less waste at the next meal.  It was really cool to see the kids learn that they could put less food on their plates and always go back for more if they wanted it instead of putting too much on their plates and wasting it.
Obviously these two experiences have stuck with me.  I'm a big fan of cleaning my plate and I hate wasting food.  I probably hate it more now due to money instead of environmental reasons, even though those reasons still resonate with me.
I've heard of bloggers doing Food Waste Friday before and thought it was cool, but I'd never found a blog I liked enough to link up to until I found The Frugal Girl.  Her blog is inspiring and I enjoy reading it everyday.  I don't follow as many bloggers as I'd like, but she is one that I consistently check out.  I was so excited when I saw her Food Waste Friday link up and decided to join!
Here is what happened with food waste at my house last week.  I'm a bit of a planner so I will always blog about the previous week for these posts.
1.
We wasted nothing this week other than odds and ends that Robert refused to eat.
I almost wasted these two pieces of fried fish and then Tom came home and ate them with his lunch.  I was so excited when I realized that we didn't waste anything!  Thanks Tom for helping us have no waste this week.
2.
I recently started not buying myself anything for lunches when I go to the grocery store.  It is much easier for me to eat leftovers from the week instead.  If we don't have leftovers, I eat a peanut butter sandwich or a fried egg over spinach. Here are my leftovers from Chinese take out.
3.
We had some grape tomatoes that were going bad so I put them in a breakfast casserole instead of tossing them.
4.
I've decided to stop throwing out veggies that are about to turn, as well as the inedible ends of veggies.  I'm going to freeze them until I have enough to make my own vegetable broth.  Here are the ends of my eggplant.
How did you do this week?  Leave me a comment or head over to The Frugal Girl and link up!