Thank you BJ's Wholesale Club for sponsoring this post.
There are probably a thousand different hacks for saving money with a baby. As a cheapskate and mom of three, I've definitely heard my fair share of crazy ways to save money on baby products. But did you know that you don't have to resort to insane methods to save money on baby products? Nope, all you have to do is keep it simple, buy the basics and learn how to get the best deals on the items you frequently buy.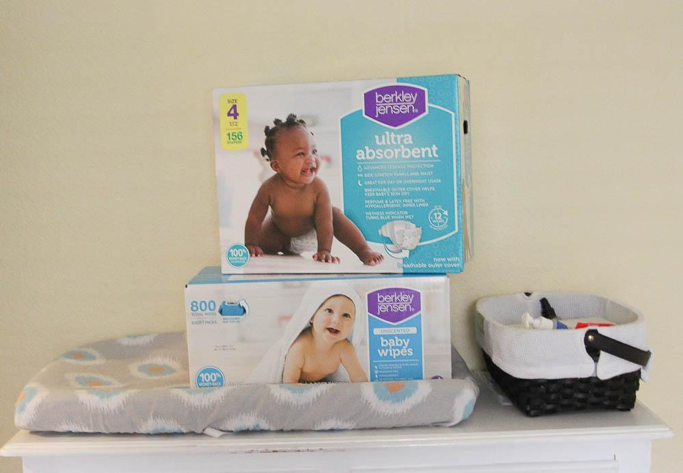 Ask any parent what they purchase the most and they will probably answer with diapers, wipes, or formula. The struggle to afford those purchases each month is real! You never realize how much babies go through those essentials until you have one.

Save Money on Baby Products by Buying in Bulk
One of my favorite ways to save money on baby products is to buy in bulk, especially when it comes to diapers. Purchasing diapers has been the biggest sticker shock for me as a mom since I cloth diapered my first two kids. While I really wanted to cloth diaper the third kids I just couldn't keep up with the laundry of 5 people plus diapers. Adding the cost of diapers to our monthly budget was a huge transition for us, but luckily buying in bulk made it a little easier on our wallets.

What is the best store for buying bulk baby products?
BJ's Wholesale Club has been my favorite store since before my first son was even born. It's been estimated that you can save up to $500 a year and 25% off grocery store prices every day by shopping at BJ's.
I'm a huge fan of BJ's for two very important reasons:
It's the only membership warehouse club that accepts manufacturer coupons.
It's one of the most affordable memberships of all the warehouse clubs – a BJ's Inner Circle membership is only $55!
BJ's offers everyday low prices and unbeatable quality on baby products. This gives me the ability to spend less time shopping and more time with the kiddos. BJ's exclusive brand, Berkley Jensen, has a wide assortment of baby products, including Berkely Jensen Baby Wipes, that are a great value and are backed by a 100% money back guarantee. I've tried every brand of diapers and I really can't tell a different with the affordable Berkley Jensen Ultra Absorbent Diapers. It's probably because every Berkley Jensen items has been carefully engineered and tested for superior performance and reliability.

Get a FREE $25 BJ's Gift Card!
BJ's has an amazing deal going on right now with the refer-a-friend program. Since real friends share savings, I'm excited to share this deal with you!
Use my refer-a-friend link to join BJ's today and earn a $25 gift card.
Even better, once you join, you can create your own refer-a-friend link and start getting a $25 gift card for each friend that you refer!
The next time you head to BJ's for groceries, don't forget to head down the baby aisle. You'll be pleased to find all sorts of options to choose from. You may not have Batman there to help you like I did, but I do think you'll feel like a superhero for providing for your family without spending a ton of money.
Don't forget to head to BJ's Wholesale Club website to take advantage of the $25 gift card!
I was selected for this opportunity as a member of CLEVER and the content and opinions expressed here are all my own.